ASD SOCIAL SKILLS CAMP
We are taking registrations for this camp now:
The 'Mindware Psychology Adventure Program (MAP) – Helping children find their compass of life' camp is designed for senior campers (12 – 15 years) that may present with higher needs or. The camp aims to help build the self confidence, resilience and independence of it's participants in a group setting through their participation in graduated outdoor activities. Participants will challenge themselves daily with therapy supports on hand to support them with their own growth. Our goal is to support them to overcome anxiety about social situations and develop life skills that increase their confidence in their own abilities.
As part of our camp package, your child will receive:
– Pre and Post Assessments by Psychologists
– Pre and Post Clinical interviews with a Psychologist
– A brief Report prepared by Psychologists that can be used to inform ongoing therapy/funding options
– 2 nights & 3 days of intensive outdoor therapy including two nights camping out and preparing meals
– Nutritious meals that can meet dietary requirements
– Supported group team building activities
– Challenging adventures that will encourage participants to engage with others and make the most of social occasions and new experiences
– Graduated exposure to adventure based group activities
– A group environment of peers of a similar age to build lasting memories and ongoing new friendships
All of this for just $1500 – less than the cost of one report!
NDIS Eligible – Goals may include:
Goal 1
I would like identify and develop strategies to cope with my emotions so that I feel less anxious in situations at home and in the community.
Goal 2
I would like to improve and develop my communication skills so that I can increase my participation in social and community activities and create, develop and maintain new and existing relationships.
Goal 3
I would like to challenge myself with new activities and develop positive self-esteem and confidence in my strengths, and acceptance of my difficulties and differences, to enable me to be more independent.
Goal 4
I would like to improve my social skills to increase my social and community participation and reduce my social isolation and vulnerability.
Please register your interest at contact@mindwarepsychology.com.au or speak to us about developing a program to suit your needs.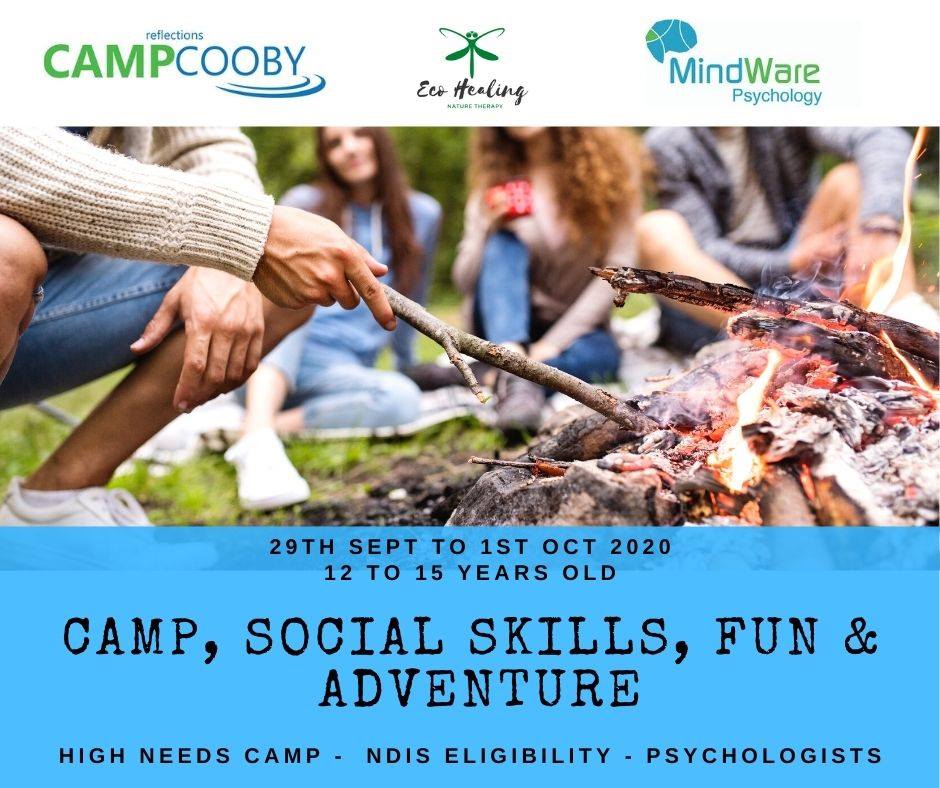 EOI: ASD FAMILY CAMP
We are taking expressions of interest for this family camp.
This camp is targeting families with a child who has ASD.  We will include siblings and parents in an outdoor adventure that helps strengthen your family and support your young person with ASD.